Read Time:
1 Minute, 54 Second
BISSA are delighted to announce the season long loan signings of Tom Holmes and Will Mayer from Castleford Tigers.
Tom is an elusive quick half back and Will a mobile aggressive forward. Both have Super League experience and have a long bright future ahead. Darryl Powell is delighted with the connection with Batley as was proved last season with Greg Minikin and Frankie Mariano.
BISSA would like to thank ALL members for their contributions.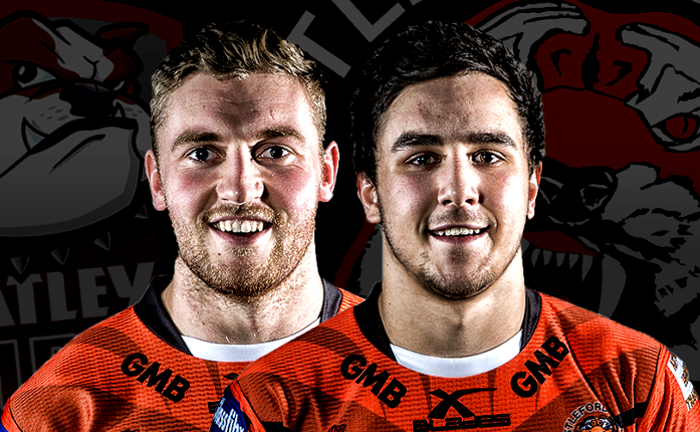 Taken from BatleyBulldogs.co.uk
Following on from last year's hugely successful agreement with Castleford Tigers, which saw Greg Minikin make a massive impact as part of the Bulldogs squad and Frankie Mariano make a number of strong appearances for the club, two exciting young Castleford players will be joining The Bulldogs on Season Long Loans.
The highly rated pair, Hooker/Half-Back Tom Holmes and Forward Will Maher, both have Super League experience and will play key roles in the 2017 squad at the Fox's Biscuits Stadium.
Tigers' Coach Daryl Powell sees massive benefit in working with The Bulldogs following last year's agreement.
"On the back of last season I'm pleased to say we have a relationship with Batley Bulldogs again which enabled Greg Minikin to do such a great job when he came back into our first team last season. This season Tom Holmes and Will Maher will be playing with Batley on a full season loan. Both of these players have Super League experience and I'm confident both Batley and the players will benefit greatly from this deal. I know Batley's head coach Matt Diskin personally and know the players will receive outstanding coaching within Batley's environment while still working full time with our staff."
Bulldogs' Chief Executive Paul Harrison told us "We're delighted to be once again working with Castleford Tigers.
When players come to Batley we want them to feel part of our squad and our club and so a season long deal is fantastic for us. We're confident Will and Tom will make a huge impact here and we'll do everything we can to assist Castleford in their development"
"The pair are the latest in a number of new recruits to The Bulldogs signed with the support of BISSA, as we look to build on a fantastic 2016."